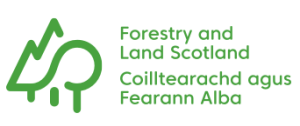 Forestry and Land Scotland
Planning Forester
Based in Oban or Fort William
£28,116 - £30,159 plus benefits
Background Information
We're looking for enthusiastic, practical, creative people to join the West Region team to help shape the future of Scotland's forests and land.

West Region covers mainland Argyll (excluding Cowal), Mull and Lochaber. It is in one of the most wooded areas of Scotland. The landscape is characterised by the spectacular mountain scenery, coastal features, sea and inland lochs and extensive hills.

The multi-disciplinary team of 130 people, based at locations across the region and supported by the national team, manage around 145,000 ha of forest and land of varying types. Together the team works to deliver the objectives FLS has agreed with stakeholders and regulators, while helping ensure that FLS meets UK Forestry Standards and maintains UKWAS accreditation.

The planning and environment team is involved in all aspects of the regions work – woodland management, timber production, road construction, open land and habitat conservation management, peatland restoration, as well as community engagement, supporting public access and the management of tree pests and diseases. Working closely with others the team designs the forests of the future, protecting and restoring natural habitats, whilst seeking to maximize productivity and enable programmes to be created to meet a wide range of multiple objectives. This is a diverse and dynamic task that involves balancing financial, social and environmental delivery benefits from each plan area.
Job description
Working with other colleagues and external stakeholders you will facilitate and coordinate the revision and preparation of UKFS compliant plans. These plans will map all future work and programmes and you will engage with others to produce plans that will deliver a wide range of key land management objectives into the future.

In the facilitation role you look at different options to allow agreed solutions to be built into the land management plans.

Responsibilities
Prepare Land Management Plans (LMPs) based on a thorough understanding of the land and analysing environmental, silvicultural, financial and social impacts, as well as FLS resources and commitments. Plans and programmes are required to meet the UK Forestry Standard and the UK Woodland Assurance Standard;


Undertake site visits and collaborate with relevant colleagues to explore land management and implementation options, identify silvicultural requirements, creatively address key problems identified and develop efficient and practical solutions to meeting land management objectives over the required timeframe;


Build and maintain excellent working relationships with stakeholders such as community groups and statutory consultees;


Forest Planners prepare screening information for Environmental Impact Assessment (EIA) determination, full EIAs, and amendments to plans for regulatory approval as required.


For more information and to apply, please visit our website:
www.civilservicejobs.service.gov.uk
Please quote ref 75587
Closing date: 30th October 2020, 23:55
No recruitment agencies please.
We are committed to providing equal opportunities for all sectors of our diverse community.