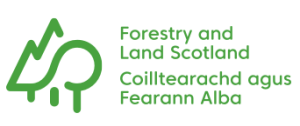 Forestry and Land Scotland
Peatland Work Supervisor
Salary range: £25,641-£27,056
Location: Aberdeenshire/Tayside. There is flexibility to live in neighbouring regions and commute to site visits in these areas.
Sectors: Land management, carbon, conservation & wildlife, water & hydrology
Do you want to be involved in guiding the future of peatland restoration across Scotland's forests and land?
Are you looking to change career to a more practically focused job, with lots of opportunity to work outdoors in Scotland's beautiful rural landscape?
We're looking for enthusiastic, practical, creative, forward-thinking people to join our Regional team in the East of Scotland. Our peatland team come from a variety of backgrounds and have a crucial role in Scotland's response to the Climate Emergency. Hear directly from our staff about what it is like to work in this vital field.
About Us
Forestry and Land Scotland's peatland restoration programme is increasing in scale. To date, we have undertaken restoration work on 8,552 hectares of degraded peatland habitat, 1,000 hectares of restoration per annum. By 2025 we expect to be restoring some 3,000 hectares annually, to prevent emissions, capture carbon and create new valuable habitats for threatened peatland wildlife in the process.
The Peatland Restoration team is growing to meet the ambitions of our commitment. The National Planning and Environment team has six staff that support overall programme management & delivery, GIS functions, and technical advice. Within the Regions there are a total of 9 staff dedicated across Scotland to delivery of peatland restoration work, through project development to works supervision. Additional support is provided from Planning Foresters and Civil Engineers. As part of a nationwide team, you will be supported to develop your skills & expertise through regular technical mentoring and peer to peer learning opportunities.
The East Region team of 135 people manage 90,000 ha of land. East Region covers Moray, Aberdeenshire and Tayside from the Moray Coast through the eastern Cairngorms and Angus Glens into Perthshire and Fife. It is an extremely diverse area rising from the sandy coasts at Culbin and Tentsmuir to the rolling hills and wild expanses of the Cairngorms, Angus Glens and Highland Perthshire. Find out more from our local staff about the benefits of living in the region.
What you will do
You will work closely with the Regional Peatland Restoration Forester and the wider Regional team of foresters to support the planning and contract management of restoration projects across the region. You will supervise contractors to ensure delivery meets specifications whilst protecting the wider environment and in line with health and safety requirements. You will also initially work closely with the planning and environment teams to assist in site condition surveys to help identify option appraisals for each site.
Training will be provided, both formally and through learning from experienced colleagues and interaction with other organizations.
What skills & experience do you need?
Essential
Knowledge of contract management within the land management sector, e.g., forest management, timber harvesting, and/or environment and recreation projects.
Knowledge of related Health and Safety systems.
Experience of using GIS systems, and/or a willingness to become proficient in using GIS systems and IT tools to help record survey information in the field.
A full current driving licence that enables you to drive in the UK.
Willingness to work independently in remote and challenging conditions, to undertake practical land management tasks.

Desirable
HND qualification or Higher, or evidence of significant experience, in a Land Management or related environmental subject e.g., geography, ecology, environmental science.
Previous experience in one or more of the following areas: peat depth survey work, drone survey work, ecological habitat survey and monitoring.

Applications
If you think you have what it takes to be successful in this role, even if you don't meet all the requirements, please apply. We would appreciate the opportunity to consider your application.
Closing date: Friday 10 June 2022.
Apply online here
Closing Date: 10/06/2022 Location: Aberdeenshire/Tayside.