A round up of the top countryside, conservation, wildlife and forestry stories as chosen by the CJS Team.
The British Wildlife Photography Awards 2017
A Celebration of British Wildlife
The British Wildlife Photography Awards proudly announce the winners for 2017. The awards celebrate both the work of amateur and professional photographers and the beauty and diversity of British wildlife. Winning images are chosen from thousands of entries in fifteen separate categories including a category for film and two junior categories to encourage young people to connect with nature through photography.
In winter, pied wagtails roost communally in urban areas, both for protection and for the additional warmth given off by buildings and lights. This extra degree or two can make the difference in harsh weather. Here, a single individual out of hundreds is silhouetted by the lights of Terminal 5 at Heathrow Airport.
"Living near London I'm always amazed by how nature can benefit from urban areas. There are many urban pied wagtail roosts across the UK during winter and they are incredibly important for the birds survival during these harder times, both for the additional warmth our buildings generate but also because there's safety in numbers. I waited for a cold night when their numbers swell. After about 30 minutes I hadn't seen a single wagtail, however, it wasn't long until hundreds were dropping in to the trees next to the terminal building, all calling away. It's an impressive site to see and once the initial excitement was over I spent time looking for birds I could isolate against interesting background lighting. The birds soon tuck their heads under their wing to sleep which doesn't make the silhouette as pleasing, you have to get lucky with one waking up briefly to have a look around." Daniel Trim.
CJS is delighted once again to sponsor the Botanical Britain category, this year the winning image is by Steve Palmer of common reeds.
Common Reeds, Lindow Common, Wilmslow, Cheshire, by Steve Palmer
Congratulations to all the winning photographers. It's lovely to recognise the names of some previous CJS subscribers amongst the winners!
Published tomorrow (7 November) The Book - British Wildlife Photography Awards 8 showcases the very best entries from the British Wildlife Photography Awards in 2017. This stunning coffee table book is a celebration of British wildlife as captured on camera by today's best amateur and professional photographers. (Lovely Christmas present for all wildlife lovers!)
And watch out for the travelling exhibition of the photographs.
Red squirrel reintroduction success with breeding and natural expansion - Trees for Life
A project by Trees for Life relocating red squirrels to their old forest homes in northwest Scotland has been boosted by evidence of breeding and natural expansion by the new populations.
The conservation charity is reintroducing squirrels to suitable native woodlands in the Highlands, from which the species has been lost. Because reds travel between trees and avoid crossing large open spaces, they can't return to these isolated forest fragments on their own.
Red squirrel (© Peter Cairns scotlandbigpicture.com
)
"Early indications are that this could be a real wildlife success story. The new squirrel populations are not only flourishing and breeding in their new homes, they are also starting to spread out into new areas – with squirrels being sighted as far as 15 kilometres away," said Becky Priestley, Trees for Life's Wildlife Officer.
The project's initial relocations took place between the springs of 2016 and 2017, with the first 33 squirrels from Inverness-shire and Moray released at Shieldaig in Wester Ross. This was followed by 22 more released at the Coulin Estate next to Beinn Eighe National Nature Reserve near Kinlochewe, and 30 at Plockton, which is owned by landowners including The National Trust for Scotland.
Trees for Life now has evidence of the relocated squirrels breeding two years in a row at Shieldaig, and also of breeding at Plockton.
Natural recolonisation of other areas appears to have begun from Shieldaig. During 2016, the squirrels spread throughout much of the habitat, with one sighting 13 kilometres away beyond Loch Torridon. There have been further sightings in the same area during 2017, and others two kilometres further away, at Inveralligin.
More success - additional congratulations to photographer Peter Cairns for winning the Documentary Series category of the BWPA with a series of six images following the translocation of the squirrels. View the series.
Scotland's parks and greenspaces in decline - greenspace scotland
The 2017 Greenspace Use and Attitude survey published by greenspace scotland today(6/11) shows the downward trend in the deteriorating quality of Scotland's parks and greenspaces has continued. Whilst the survey confirms that Scots still love their parks, with over 90% of urban Scots saying it is important to have greenspace in their local area, the quality of Scotland's parks and greenspaces has continued to decline, and this means that fewer people are using their local greenspaces regularly.
40% of people agreed or agreed strongly that the quality of their local greenspace has reduced in the last 5 years (up from 33% in 2011) and this figure rises to 50% for people living in the more deprived areas (up from 35% in 2011).
From a peak, in 2009, when nearly two-thirds (63%) of urban Scots used their local greenspace once a week or more often; frequency of use and quality ratings have fallen steadily, with less than half (43%) of Scots visiting their local greenspace weekly in 2017. This is the lowest figure since the survey first started in 2004.
The 2017 Greenspace Survey was commissioned with financial support from Scottish Natural Heritage, Scottish Government and the Central Scotland Green Network Trust.
Julie Procter, Chief Executive of greenspace scotland said: "Parks are our natural health service and the findings from this survey have important implications for our health and wellbeing. We know greenspace is good for us – a daily dose of vitamin G could be just what the doctor ordered to keep us active and provide tonic for the soul, but falling ratings of quality mean that fewer Scots are using their greenspaces regularly. This has important implications for aspirations for an Active Scotland and tackling the obesity timebomb."
Read the full survey report, and executive summary (both PDF)
800 years on from the Charter of the Forest, we're calling for improved access to woodland - Ramblers
Eight hundred years ago today (6 November 1217) the Charter of the Forest granted ordinary people the right to access royal forests. This was the first step in a campaign spanning centuries seeking the legal guarantee of freedom for people to access our beautiful landscapes.
Today, only around 40% of woodland in England and Wales is available for people to fully explore, compared to the UK average of 50%. And much of this 40% doesn't have a permanent right of access, meaning it could be closed off at any time.
A recent YouGov survey commissioned by the Ramblers revealed that people in England are most interested in seeing increased access to woods and forests over other types of land.
Our chief executive, Vanessa Griffiths said: "The Ramblers has been leading the way in opening up access to the countryside for everyone, and we've come such a long way from the times when land would be reserved for the sole use of aristocracy. We know how people love to wander through their local woodlands, enjoying the peace and beauty, but not everyone has access to enjoy these simple pleasures. And, although the government pledged in 2013 to increase access to woodland, very little progress has been made. With compelling evidence that a walk in the woods can do wonders for wellbeing, we want to see this change."
We want to gather your thoughts on what you'd like the future of access to look like for the next 800 years. Please let us know in our survey: www.ramblers.org.uk/accesssurvey.
Bees' Needs Champions awards celebrate pollinator heroes – Defra
Lord Gardiner presented 17 pollinator 'champions' with certificates at the annual Bees' Needs Champions awards at Kew Gardens.
A 'Bee City' and a successful reintroduction scheme for the short-haired bumblebee are among the innovative projects highlighted today by Defra Minister Lord Gardiner as inspirational examples of action to protect our pollinators.
School children accepting award (Defra)
The annual Bees' Needs Champions awards, hosted at the Royal Botanic Gardens, Kew, celebrated 17 bee boosting projects from volunteers, schools, charities and councils across the country which are helping pollinators thrive both in the countryside and in our towns and cities.
From buzzing bumble bees to beautiful butterflies, the UK's 1,500 species of pollinators play a crucial role, helping our flowers, fruit trees and crops to grow and contributing £400-680million per year due to improved productivity.
Speaking at the Bees' Needs Champions Awards, Minister for Rural Affairs and Biosecurity Lord Gardiner said: "We must all be thankful for our essential pollinators who do such vital work on our behalf, flying from crop to crop, tree to tree, helping us to grow our food. The champions I had the pleasure to meet today are doing exceptional things to return the favour and look after our pollinators. We must not leave them to it. We can all play a part."
Surge in seahorse sightings shows importance of River Thames for wildlife - Zoological Society of London
Latest discoveries at Greenwich provide further evidence of estuary ecosystem's renaissance
Marine biologists from international conservation charity ZSL (Zoological Society of London) working on the River Thames are excited to report more evidence of seahorses living in London's iconic waterway. The sighting of a sixth individual animal in the past two months alone, compared with previous averages of just one or two annual sightings, underlines the importance of the Thames and its estuary as a haven for wildlife.
Short-snouted seahorse (image: Anna Cucknell / ZSL)
The most recent sighting of a short-snouted seahorse (Hippocampus hippocampus) was recorded by an ecological survey team working at Greenwich on behalf of Tideway. It is not yet known what might have caused this recent surge in sightings.
Commenting on the team's latest discovery, Anna Cucknell – Estuaries & Wetlands Conservation Manager for ZSL – said: "We're really excited to be finding more and more evidence suggesting seahorses are resident in the Thames. The limited research work to date suggests that two species in particular now call London's estuary home: the short-snouted seahorse and the spiny seahorse (Hippocampus guttulatus). Both tend to prefer shallow coastal waters and estuaries, so we shouldn't be too shocked to find them here. But the fact both species typically have small home ranges and don't tend to travel far gives reason to believe that the seahorses we've found recently are permanent residents rather than occasional visitors. Beyond that, there's currently a real lack of scientific data on the wider status and populations of these two seahorse species in the Thames and throughout their range, so we're hopeful these recent finds will attract the attention of funders to help us understand more about these amazing animals."
These seahorse sightings are just the latest indicator of how biodiverse and important the Thames is for a number of species: from tiny invertebrates like shrimp and insect larvae; to over 125 species of fish, including the Critically Endangered European eel (Anguilla anguilla); and apex predators like the harbour seal (Phoca vitulina), grey seal (Halichoerus grypus), tope (Galeorhinus galeus) and smooth-hound (Mustelus mustelus). It highlights how little we know about many of the species inhabiting the estuary running through the nation's capital.
Planning without the people: Scots feel they have been left out of the system - National Trust for Scotland
A survey commissioned by the National Trust for Scotland shows that a majority of people feel they have no influence on local planning decisions and that the planning system needs to do more protect and enhance our heritage.
The Trust arranged a survey of 1,025 Scots aged over 16 years in August of this year. The survey sample was weighted to reflect the country's socio-demographic distribution.
The key findings were:
60% felt they had no influence on planning decisions affecting their local area;
Only 41% of those surveyed felt their local historic environment has been protected or enhanced by the planning system
Less than half (47%) felt that local greenspaces and natural heritage had been protected by the planning system;
Local communities' priorities for protection and future improvement go much further than the current focus on enabling housing development – 49% prioritise outdoor areas, 47% housing, 46% public facilities and shops, 40% transport;
90% want local communities to have the same rights of appeal in the planning system as enjoyed by developers, indicating dissatisfaction with the balance of power in the system at present.
The backdrop to the survey is a review being conducted the Scottish Government as a prelude to a proposed Planning Bill, which recognises the system needs to work better. However, the consultation paper issued by civil servants in January 2017 referenced 'housing' 75 times, 'greenspace' three times and 'natural heritage' only once. There were no references at all to 'amenity', 'beauty', 'landscape,' 'recreation' or 'sustainable development.' The research shows that the new bill must go further than just housing if it is to meet public expectations.
Download the full report (pdf)
Bright future for Forestry Commission in England - defra
The Environment Minister has announced new arrangements for the Forestry Commission in England.
(Copyright Natural England

)

New changes to strengthen the role of the Forestry Commission and protect England's forests for future generations have been announced today by Environment Minister Thérèse Coffey.

From April 2019 Scottish Ministers will take on full responsibility for their national forests – meaning the Forestry Commission will remain in England, continuing to protect, improve and expand some of the country's best-known landscapes, from the Forest of Dean to Northumberland's Kielder Forest.

The Commission will continue to manage more than 250,000 hectares of England's Public Forest Estate, with a new board of Commissioners established to oversee this.

The world-renowned Forest Research will remain as an agency of the Forestry Commission, working closely with partners across the UK.

These arrangements provide certainty for the Commission and its staff, helping some of our most precious landscapes thrive into the future.

The Forestry Commission will maintain its specialist forestry expertise, continuing to offer support, advice and guidance to land owners and managers responsible for England's woodlands.

The new Board of Commissioners will bring strong experience in commercial, community and environmental backgrounds that will complement the work of the new organisation.

This will strengthen the Commission in its role of safeguarding and protecting the Public Forest Estate now and for the next 100 years.

The English, Scottish and Welsh Governments will continue to work together to commission forest research, sustain high standards for forestry in the UK, and protect trees against pests and diseases.

Green community ambitions, up to £400,000 to boost the environment. - Scottish Government

Communities across the central belt can bring environmental and health benefits to their areas by bidding for a share of a fund worth up to £400,000.

The 2018-19 round of the Central Scotland Green Network (CSGN) funding will offer investment to projects promoting active travel, woodland planting, community growing and restoring land. Since 2010 £6.3 million has been invested in more than 180 projects.

Cabinet Secretary for the Environment, Climate Change and Land Reform Roseanna Cunningham opened the latest round of funding on a visit to the New Caledonian Woodlands Ltd, which received investment in the 2017-18 round. She said: "Since 2010 this investment has helped more than 180 projects improve green spaces in their local areas. Whether that's been through community growing, woodland planting or increasing awareness of cycle and walking routes, each of these community projects is playing a role in our ambitions to create a cleaner and greener Scotland. As I prepare to discuss Scotland's green ambitions at the UN climate change convention this weekend, it's more important than ever that we recognise how these small individual actions can play a role in reducing emissions, and why getting together to improve our green spaces is so crucial."

Statement on RSPB's Birdcrime report - Peak District National Park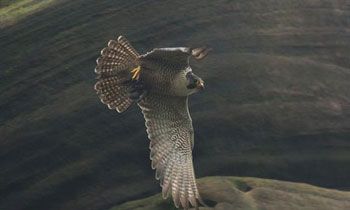 The Peak District National Park has issued a statement in response to the recent RSPB Birdcrime report.
Peregrine falcon (Image: Peak District National Park)
Sarah Fowler, chief executive of the Peak District National Park, said: "Killing birds of prey is illegal. I am appalled by the persecution of any protected species, no matter what the circumstances. The RSPB's latest Birdcrime report brings the plight of birds of prey to the fore. It shows what we are up against in trying to reverse the fortunes of birds of prey. I welcome the recent acknowledgement from shooting organisations that the killing of raptors to protect game birds is part of the problem. It is – and it is damaging to their interests. I welcome and wholeheartedly support their condemnation of such activity. Being able to watch birds of prey in the Peak District National Park should be part of everyone's experience. We have been working with landowners, gamekeepers and partners since 2011 to remedy the situation locally but it is clear from the results that much more needs to be done."
See the original news from RSPB here and download the birdcrime report here.
Britain's loudest bird in rude health – RSPB
Britain's loudest bird, once extinct in the UK, has enjoyed its best year since records began, according to a new survey. The bittern – a kind of heron – is doing well following intensive conservation efforts.
Bitterns are highly secretive wetland birds and live most of their time within dense stands of reed, making them very difficult to survey. However, scientists count bitterns by listening for the male's foghorn-like booming call, and this year numbers increased to at least 164, recorded at 71 sites. That compares to 162 at 78 sites in 2016, and is a positive sign that bitterns are back from the brink and thriving.
The annual monitoring, organised by the RSPB, found that the number of booming males in Somerset increased by two, from 47 to 49 boomers, although there was a slight drop this year in the core areas in eastern England; Suffolk Coast, Norfolk Broads and The Fens. Booming was also reported from three new sites, and there was an increase in Wales this year.
Bitterns were considered extinct as a breeding species in the UK by the 1870s. Following recolonisation early in the 20th Century, numbers of bitterns increased to a peak of about 80 booming males in the 1950s, but then fell to fewer than 20 in the 1990s, with similar declines witnessed in many other countries in Western Europe. By 1997, there were only eleven booming male bitterns in the UK; these were mainly within Norfolk and Suffolk, with a small outlying population at Leighton Moss, in Lancashire.
Simon Wotton, Senior Conservation Scientist at the RSPB, said: "In the late 1990s, the bittern was heading towards extinction once again in the UK. But, thanks to conservation efforts to restore and create its preferred habitat of wet reedbed,
Environment Secretary backs further restrictions on neonicotinoid pesticides – Defra
Michael Gove says the UK supports further restrictions on the use of neonicotinoids due to their effects on bees and other pollinators.
Tougher restrictions on neonicotinoid pesticides are justified by the growing weight of scientific evidence they are harmful to bees and other pollinators, Environment Secretary Michael Gove said today.
Setting out the UK's position, the Secretary of State said the UK supports further restrictions on the use of these pesticides. Unless the scientific evidence changes, the government will maintain these increased restrictions post-Brexit.

Bee resting on a flower (image: Defra)

This follows advice from the UK government's advisory body on pesticides which said scientific evidence now suggests the environmental risks posed by neonicotinoids – particularly to our bees and pollinators – are greater than previously understood, supporting the case for further restrictions.

Research estimates the value of the UK's 1,500 species of pollinators to crops at £400-680million per year due to improved productivity.

Environment Secretary Michael Gove said:

"I have set out our vision for a Green Brexit in which environmental standards are not only maintained but enhanced.

I've always been clear I will be led by the science on this matter. The weight of evidence now shows the risks neonicotinoids pose to our environment, particularly to the bees and other pollinators which play such a key part in our £100bn food industry, is greater than previously understood. I believe this justifies further restrictions on their use. We cannot afford to put our pollinator populations at risk. I recognise the impact further restrictions will have on farmers and I am keen to work with them to explore alternative approaches both now and as we design a new agricultural policy outside the European Union.

"

Since December 2013, the EU has banned the use of three neonicotinoids – Clothianidin, Imidacloprid and Thiamethoxam – on a number of crops attractive to bees, such as oilseed rape.

Response: Finally UK follows science and backs bee saving pesticide ban – Buglife

Today Michael Gove has announced the most radical, and much to be welcomed, shift in the UK's position on neonicotinoids since Buglife first wrote to Defra ministers in 2008 raising concerns about risks to wild bees and aquatic life.

Evidence this year from Canada put harmful impacts, from the persistent contamination of the countryside with dust and washed off neonicotinoids, beyond all reasonable doubt. However, there was enough evidence a year ago for the European Food Standards Authority to determine that they presented a high risk to wild bees, and enough evidence for Buglife to call for a precautionary ban in its report reviewing scientific evidence in 2009.

Under Hilary Benn the Defra response to concerns about the impacts of neonicotinoids on wildlife in 2009 was deflection, which evolved in 2012 under Owen Paterson into determined rejection, until the EC intervened to impose a partial ban in 2013. Since 2013 the UK Government's position has been unenthusiastic compliance, with two derogations being granted in 2014 and 2015 allowing farmers to use neonicotinoid seed treatments.

Today's policy change follows new advice from the Expert Committee on Pesticides and puts the UK firmly behind moves to extend the existing partial ban in both time and scope. The EC plans to bring an overdue proposal to include all outdoor crops in the ban to a Council meeting in December.

Response: NFU reaction to neonicotinoids announcement – NFU

The UK supports further restrictions on the use of neonicotinoids, Michael Gove has said. Setting out the UK's position in a Defra press release, the Secretary of State said 'the UK supports further restrictions on the use of these pesticides. Unless the scientific evidence changes, the government will maintain these increased restrictions post-Brexit.'

NFU comment:

Dr Chris Hartfield, NFU acting chief science and regulatory affairs adviser, said: "Farmers are acutely aware that bees play a crucial role in food production. Farmers rely on bees to pollinate crops and have planted around 10,000 football pitches of flower habitat across the country to support a healthy bee population and give them a good home.

"We deeply regret the decision the Government has taken on this issue as we don't believe the evidence justifies this abrupt change in policy. We will continue to speak to the Government about how the impact of the decision can best be mitigated so that farmers can maintain sustainable and productive cropping systems."

Dr Hartfield was also quoted in The Guardian today, he said: "Farmers are acutely aware that bees play a crucial role in food production and have done an enormous amount to help them." But he said the committee's finding of "unacceptable effects" came despite their acknowledgement of a gap in understanding in whether neonicotinoids damage overall ecosystem services.

UK's first marine Landscape Partnership secures £5m for North East Coastline - Durham Heritage Coast

The Tyne to Tees, Shores and Seas - Seascape Partnership has been awarded £2.9m by the Heritage Lottery Fund to develop and deliver the UK's first marine Landscape Partnership Scheme. Boosted by a further £2m in partnership funding, this scheme will deliver over 30 projects to benefit the coast, marine environment and coastal communities of South Shields, Sunderland, Durham and Hartlepool.
The scheme focuses on the undervalued Magnesian Limestone seascape between the rivers Tyne and Tees in North East England; where it will improve access to beaches, explore the shipwrecks and habitats beneath the waves, increase biological recording through citizen science, construct a coastal conservation centre, tackle marine litter and create opportunities for local people and visitors to enjoy being on and in the sea. The detail of these projects will be finalised through the funded Development stage, due to commence in January 2018. The scheme aims to take a community-led approach from the beginning, engaging coastal communities and sea users throughout development and delivery.

The Seascape Partnership encompasses a wide range of local, regional and national partners. The HLF grant is exciting news for everyone with an interest in marine and coastal zone management and community engagement, as Emily Cunningham, who developed and wrote the successful bid on behalf of the Seascape Partnership explains: "We're absolutely thrilled that HLF has funded the UK's first marine Landscape Partnership Scheme. It's going to enable us to re-engage coastal communities with their heritage, igniting stewardship and working together to realise the potential of this special coastline."

Threatened sand dunes set for a golden future thanks to National Lottery funding - Heritage Lottery Fund

A third of England and Wales's threatened sand dunes have a brighter future thanks to a pioneering National Lottery funded conservation and restoration project, unveiled today.

Sand dunes are listed as the habitat most at risk in Europe. They are a sanctuary for endangered plants and animals like the dune gentian and sand lizard. However, many are being smothered and fixed by a tide of invasive scrub, becoming sterile, grassy hillocks.
Now the Heritage Lottery Fund (HLF) has given initial support for a £4.1million grant to an innovative four-year partnership project, Dynamic Dunescapes, which will restore some of the most important sand dune landscapes in England and Wales.
Natural England, National Trust, Plantlife, The Wildlife Trusts and Natural Resources Wales will work with local coastal communities to conserve and restore up to 7000ha in nine areas across England and Wales.
Sand dunes at Duddon Estuary, Cumbria (image: Natural England/Peter Wakely
)
Natural England's Chairman, Andrew Sells, said: "We're really excited about this fantastic project to save our dunes and give more people the opportunity to learn about our fascinating wildlife. Dunes are not only a backdrop to a day at the seaside – they are home to some of our rarest species and are in desperate need of help. That's why we're working with our partners from across the conservation movement – spanning two countries – to tackle this problem together."
The project will concentrate on improving the condition of nine identified dune cluster sites at: Lincolnshire Sand Hills; Studland Dunes, Dorset; North Cornwall Coast; Braunton Burrows; North Devon Coast; Swansea/Neath Port Talbot; Carmarthen; Anglesey/Gwynedd; Sefton Coast; and Cumbrian Coast/Solway.
Forest School set to help 1000s more children - Lancashire Wildlife Trust
Lancashire Wildlife Trust have received a generous £116K from players of People's Postcode Lottery, to deliver another year of their Forest School Project across Manchester and Liverpool. The project is aimed at reconnecting urban children back with nature and wildlife through bushcraft activities at weekly sessions.
Senior Forest School Project Officer Vicki McDermott said, "We are really excited to be continuing our fantastic Forest School work across Manchester and Liverpool. We have an amazing opportunity to offer this unique experience to more children, young people and their teachers and it's all thanks to the players of the People's Postcode Lottery!"
The funding means that Lancashire Wildlife Trust can now expand the project to include a further four schools each in Manchester and Liverpool, as well as supporting previous cohorts with study days, training days and new ideas for their Forest School sessions.
Forest School benefits children in many different ways. Whether that's enhancing their confidence to answer questions in class, increasing their resilience to difficult life situations or improving the communication skills of children who have English as an additional language; no child comes away from the programme worse off.
Good initiatives exist but more action needed to tackle marine plastics - IUCN
A new IUCN Europe report shows that a number of policy initiatives are already in place to protect our oceans from plastic pollution – however Europe can still do more to protect our oceans from plastics.
By 2050, an estimated 99% of sea birds will have ingested plastic. Plastic does not biodegrade once in the ocean but instead breaks down into microplastics that are now found in most marine waters globally. Micro-plastics can even be found in marine products for human consumption, such as sea salt. The importance of the issue of marine plastic litter is overwhelming.
A new report by IUCN explores national policies in EU Member States tackling marine plastic litter. The report does not intend to be comprehensive but it indicates that there are still important gaps in legislation, in particular related to the issue of microplastics. This is also because there are still significant gaps in knowledge, especially about the global releases of microplastics – although recent reports such as the IUCN study 'Primary microplastics in the oceans' are helping to address this.
"The IUCN report shows there is currently strong political interest and understanding of the need for accelerated action on marine plastic litter," said Luc Bas, Director of IUCN's European Regional Office, adding, "the upcoming EU Plastics Strategy is an opportunity to help coordinate action at EU level, set a level playing field, and define a higher level of ambition for the EU and its Member States to tackle marine plastic waste."
Download the full report (PDF)
Scientific Publications
Jalonen, R., Valette, M., Boshier, D., Duminil, J. and Thomas, E., Forest and landscape restoration severely constrained by a lack of attention to the quantity and quality of tree seed: Insights from a global survey. Conservation Letters. Accepted Author Manuscript. doi:10.1111/conl.12424
Gallo, T., Lehrer, E. W., Fidino, M., Kilgour, R. J., Wolff, P. J. and Magle, S. Need for multiscale planning for conservation of urban bats. Conservation Biology. Accepted Author Manuscript. doi:10.1111/cobi.13047