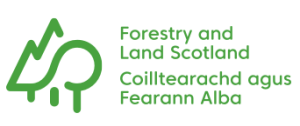 Forestry and Land Scotland
Planning Survey Assistant
Based in Ae, Dumfries
£25,138 - £26,525 plus benefits
Background Information
Forestry and Land Scotland (FLS) is an executive agency of the Scottish Government and manages Scotland's Forest and Land. We manage land on behalf of Scottish Ministers and serve as part of the Environment and Forestry directorate of the Scottish Government.

This post will be based in the FLS's Ae Office which is part of FLS's South region. The South region covers some of the most beautiful scenery including the Isle of Arran, Galloway, Tweed Valley and Ae Forests. We produce approximately 1 million cubic metres of conifer timber annually with a correspondingly large restock programme, roading programme and an increasing thinning programme. South Region is also a focus for recreation provided via formal walking trails, mountain bike routes and visitor centres as well as being a focus for wind energy.

You'll be provided with training and mentoring and will be working alongside experienced team members to help you settle quickly into the role.
The key responsibilities for the role will include:
You'll be working as part of the Planning team to help plan the delivery of the region's work programmes and other survey programmes. This includes felling, thinning, restocking, new planting and tree health monitoring programmes.


Responsibilities
Carry out inspections and surveys of forests and woodlands prior to, during and on completion of forest management operations;
Contribute to the work planning process as part of the active management of the forest;
Record your findings using available technology, and report to the relevant departments both verbally and in writing as necessary;
Undertake other survey and monitoring work to assist other departments. This can include environmental and habitat work and forest road planning.
For more information and to apply, please visit our website:
www.civilservicejobs.service.gov.uk
hr@forestryandland.gov.scot

Please quote ref 69927
Closing date: 5th October 2020, 23:55
No recruitment agencies please.
We are committed to providing equal opportunities for all sectors of our diverse community.