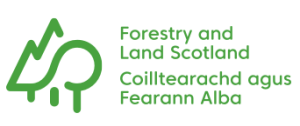 Forestry and Land Scotland
Forest Liaison Officer
Based in Oban or Lochgilphead
£28,116 - £30,159 plus benefits
Background Information
We're looking for enthusiastic, practical, creative people to join the West Region team to help shape the future of Scotland's forests and land.

West Region covers mainland Argyll (excluding Cowal), Mull and Lochaber. It is in one of the most wooded areas of Scotland. The landscape is characterised by the spectacular mountain scenery, coastal features, sea and inland lochs and extensive hills.

The planning and environment team, which the FLO post is based in, is involved in all aspects of the Region's work - woodland management, timber production and road construction, open land and habitat conservation management, peatland restoration, as well as community engagement and supporting public access and the management of tree pests and diseases. Working closely with others the team designs the forests of the future, protects and restores the semi-natural habitats and co-ordinates the programmes to achieve desired outcomes.

Within FLS's West Region there are a number of wind and hydro renewable energy developments in the operational, planning or construction phases. There are also national infrastructure projects underway such as the Inveraray to Crossaig powerline replacement which require to be integrated with other plans and operations on the national forests and land.
Job description
You will be the main point of contact between West Region, the developers and their contractors on day to day issues regarding the development of wind renewables projects. You will support and assist The Forest District Planning Team in the preparation of land management plans for renewable developments.

A key aspect of the job will be engaging with colleagues, external stakeholder and developers helping to facilitate and support the progress of renewable wind projects.

Responsibilities
Build and maintain excellent working relationships with stakeholders such as community groups and statutory consultees;
Prepare and provide developers with relevant information held by FLS and support others in the team in assessing developer proposals, testing options and revising land management plans during all phases of the project up to and including final commissioning of the schemes;
Support and assist other region staff in general liaison with utility and infrastructure companies, including facilitating permissions for surveys and work to be carried out by them on national forests and land;
Provide planning support to the developer and planning teams, including gathering relevant forest related information and mapping, environmental mitigation and integrating scheme designs with land management plan requirements;
Liaise with the developer over management of the site, ensuring FLS's interests are protected in relation to tree felling, quarrying and roading operations. Carry out regular site supervision to ensure no breaches of health and safety or environmental guidelines, and that the project remains within the terms of the Lease and Site Management Plan.

For more information and to apply, please visit our website:
www.civilservicejobs.service.gov.uk
Please quote ref 75433
Closing date: 29th October 2020, 23:55
No recruitment agencies please.
We are committed to providing equal opportunities for all sectors of our diverse community.