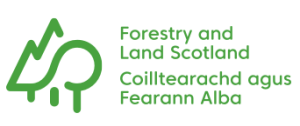 Forestry and Land Scotland
Operations Manager
Job reference: REQ0539
Location: Multiple (See JD)
Salary: £53,543 - £59,286
Contractual hours: 37
Basis: Full time
Job description
Would you like to be involved in shaping the future of Scotland's forests and land? FLS manages nearly 9% of Scotland. This means managing existing forests, establishing new ones, integrating renewables projects and caring for diverse habitats. We're committed to managing land in a way that helps with climate change adaptation, secures carbon, improves biodiversity and creates great places for the benefit of Scotland's people.
We are now looking for two commercially astute Operations Managers to be based in our East and South Regions to help lead us forward. You will have day to day responsibility for motivating and overseeing a large team across a significant part of Scotland so your people skills will be vital. Delivery of sustainable land management outcomes at scale will also depend on you having a strong influence over our suppliers through careful budget, relationship and contract management. These roles are also fast moving and will require you to be closely engaged with our customers and stakeholders to make well informed decisions under pressure and in a way that delivers results and prioritises safety in all that we do.
If you would like the opportunity to manage a large part of rural Scotland and be part of its climate change story, then we want to hear from you.
Main Duties
Leading the Delivery team
Provide strategic leadership for the delivery team by translating national goals and targets into local delivery priorities.
Drive forward professionalism in the delivery team both in terms of overall team performance as well as individual professional development.
Lead safety first culture within the team, providing support and understanding whilst pushing a continued improvement plan. Check compliance with relevant procedures and identify streamlined and integrated safety systems.
Act as Reporting Officer for the Area Civil Engineer, Area wildlife Manager and the three Assistant Operations Managers.
Lead workforce planning within the delivery function to ensure that we have a capable and resilient team, building for our future.

Leading the Deliver Programme
Provide leadership in programming decisions to support the delivery team in achieving the Regional goals.
Prepare an effective and efficient Business plan, resourced appropriately to allow the team to achieve the targets set by the Region and monitor expenditure and service provision throughout the year.
Stakeholder Engagement, Representation and Customer Care
Maintain and promote effective networks with stakeholders and customers to ensure that the team deliver consistent and high-quality output.
Maintain market intelligence and act as the link between national sales and marketing team and the regional customers.

Regional Leadership
Play an active role in the Regional Management Team.
Manage Regional business risks as they affect the delivery team making effective and timely decisions to manage the risks to an acceptable level.
Support the Regional Manager acting as their deputy when required.
Lead strategic procurement decisions for the Regional delivery team to ensure that key targets can be achieved.
Evolve our approach to the way we work, moving us towards our desired Target Operating Model.

Closing date: 20 March 2023.
Apply link: click here

Closing Date: 20/03/2023 Location: Multiple