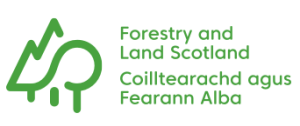 Forestry and Land Scotland
Foresters
Salary: £30,427 - £32,615 - pay award pending
We're currently looking for Foresters to join our regional Delivery Teams throughout Scotland.
Our Foresters are responsible for planning and managing programmes of work for their team in areas such as planting and maintaining forests, habitat and visitor management and so much more. It's an exciting time to join us as everything you do will play a key role in delivering the biodiversity and climate change objectives for Scotland. To support you in this, you will participate in a comprehensive induction programme and have the option to work with a Mentor for your first six months.
Main duties
Below are some tasks you could find yourself completing:
You'll have line management responsibilities, working with your team to ensure projects are completed while also ensuring the continued professional development of individuals is set out.
Proactively plan work to assist in achieving your regions objectives.
Deliver professional results through best practice, taking a balanced view of the options available.
Managing health, safety and wellbeing in all aspects of your role.
You'll continue to expand your own professional knowledge of industry best practice.
Oversee the delivery of work by contractors working on behalf of the agency.
Develop detailed expenditure budgets, monitor and manage your teams budgets while providing accurate updates and forecasts as appropriate.
You'll play a key role in positive engagement with colleagues, visitors and stakeholders.

The role may differ slightly depending on where you're based.
Salary: £30,427 - £32,615 - pay award pending
Where you'll be based
We have five regions covering all of Scotland. Have a look at the map to see where each of the regions operates and use the drop-down options to find out more about each region via the link below. You can also visit where we live and work to hear from some of our colleagues about what it's like to be based in these areas.
What we offer
We understand that changing your role or workplace can be a big decision to make, with many aspects to consider.
In addition to a generous pay, holiday and pension package we also offer:
Genuine consideration of flexible working options, such as compressed hours and a mixture of virtual, home and remote working.
Employer Pension Contributions of 27.5%.
Flexitime with the ability to take off up to 2 days per month period (in addition to your annual leave allowance).
An environment that supports work/life balance for everyone in the team.
Consideration of job-sharing opportunities.
Opportunity to pursue continued professional development.

Apply
Whatever your circumstances, if you think you would be the right fit for our team and meet the essential criteria for the role, we encourage and welcome your application.
Click the link below to get more information and apply (this will take you to our external jobs portal).
If you would like further information or have any questions, please contact: resourcing@forestryandland.gov.scot
Closing date: 19 March 2023.
Closing Date: 19/03/2023 Location: Scotland