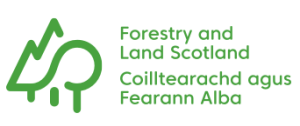 Forestry and Land Scotland
Landscape Architect
Job reference: REQ0595
Location: Flexible (see JD)
Salary: £38,533 - £41,498 + over 26% employer pension contributions
Contractual hours: 37
Basis: Full time
Job description
Forestry and Land Scotland (FLS) is looking for an enthusiastic Landscape Architect for our South Region. FLS manages nearly 9% of Scotland, and we are focused on creating a resilient legacy for future generations. In our South Region this means not only managing forests, but also peatlands, nationally important recreation sites, diverse habitats and renewables developments.
As an FLS landscape architect, you will use your problem solving and design skills at a huge variety of scales – from helping plan the spatial sequence of land management over thousands of hectares, to preparing details for recreation infrastructure in iconic locations such as Arran and the Tweed Valley.
Your designs will need to respond and adapt to climate change, enhance our landscapes, provide for timber and biodiversity, create attractive visitor facilities and develop robust and practical solutions to spatial planning problems.
What you will do
This is a role that uses creative, problem solving and design skills to help the management of our land through contributing to our Land Management Plans, to assess sensitivity and inform Environmental Impact Assessments for forest infrastructure and to prepare designs and details for recreation facilities.
You will help others plan the future management of the land to meet multiple objectives, but will take the lead design role in preparing masterplans, feasibility studies and designs for visitor facilities.
You will be keen to get out on site and gain first-hand knowledge of sites; comfortable with working collaboratively with many other disciplines; willing to explore options for large scale land management planning: able to challenge constructively to make sure we are doing what is best for the land; and confident with preparing and presenting design solutions for visitor infrastructure in rural areas.
Main Duties
Contribute to the preparation of our 10-year Land Management Plans, helping forest planners explore options, think laterally and develop efficient approaches to land management that meets our objectives.
Ensure that our proposals meet the UK Forestry Standard and regulatory requirements, including assisting in preparing relevant material for EIA screening determinations, planning permissions and prior notifications as required by Regional teams.
Act as Designer or Principal Designer in preparing masterplans and proposals for visitor infrastructure by designing attractive sites appropriate for a rural setting, including new car parks and extensions, improving circulation, and responding to increased visitor pressure.
Undertake feasibility studies, preparing briefs and helping to commission consultants to undertake major design work at large scale visitor centres and nationally significant visitor sites, often in collaboration with other bodies.
When necessary, take on the role of Landscape Clerk of Works to help Engineering or Visitor Services colleagues ensure that construction work is implemented to an appropriate standard.
As a member of the national Planning and Environment team, keep up to date on current best practice relative to land management planning and designing for visitors in rural areas, including taking a lead on key topics that will influence how we plan and design.

This may include delivering workshops to communicate skills and knowledge more widely.
If you would like to have a career that has a positive purpose and want to work closely with established teams in rural locations to design sustainable landscapes for the future, we want to hear from you.
Please review the job description and success profile for the role.
Closing date: 5 June 2023.
Closing Date: 05/06/2023 Location: Flexible