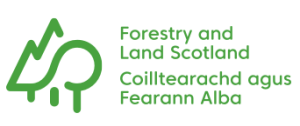 Forestry and Land Scotland
Area Ecologist
Job reference: REQ0602
Location: Multiple (See JD)
Salary: £31,178 - £33,262 + Over 26% employer pension contributions
Contractual hours: 37
Basis: Full time
Do you have a passion for protecting the environment?
It's an exciting time to join FLS, we have a key role in delivering the biodiversity and climate change objectives for Scotland. We're looking for enthusiastic, practical, motivated ecologists to join the Planning and Environment teams within our East Region. Supported by two Environment Rangers, you will play a key role in scoping and planning environmental programmes and advise on environmental protection, habitat restoration and conservation management.
The Area Ecologist provides a key service to the business through ensuring compliance with legislation and providing detailed mitigation, you will help prepare management plans, manage surveys and data, and contribute to national initiatives and projects that conserve and enhance Scotland's forests and land.
We live and work in a spectacular part of the country, often with great access to outdoor activities, but never that far from major towns either. You can find out more about where we live and work on our website.
Working at Forestry and Land Scotland is all about 'People, Pride and Purpose.' Join us and take pride in helping look after something incredibly valuable to the people of Scotland and its visitors – Scotland's national forests and land.
If this role is of interest to you, please see the job description and success profiles for full details of the role.
Main Duties
Team management
Line manage two Environment Rangers and support them in their duties.
Promote a culture of health and safety management.

Environmental Programming
Work with Forest Planners and Programme Managers to plan and specify environmental projects and programmes for delivery, providing on site advice and monitoring.
Input into the forward Environment and Heritage budget plans, manage budget spend and update internal financial planning programmes.
Advise on environmental protection and conservation management.
Provide specialist advice on the protection and management of species, habitats, and cultural heritage features.
Contribute to the creation of a programme or specification of work associated with the long term improvement of plantations on ancient woodland sites (PAWS), native woodlands, designated sites, open habitats, and water quality in line with FLS national policies, and in sensitive situations through the creation of conservation management plans.
Input to the development of Land Management Plans, Work Plans and Work Programmes, ensuring environment (ecological and historical) considerations are taken in to account, and develop mitigation and licence applications, as appropriate. This includes the creation of and seeking approval for SSSI Management Plans and management regimes for Scheduled Monuments.
Liaison with stakeholders, as required, to develop an expert opinion on plans that involve cultural and natural heritage features and implement conservation initiatives.

Contribute positively to team discussions and regional activities providing in-house talks and training to other functions to extend your influence and ensure good environmental principles are at the base of everything we do as a team.
Closing date: 12 June 2023.
Closing Date: 12/06/2023 Location: Multiple (See JD)