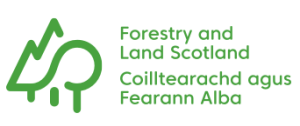 Forestry and Land Scotland
Harvesting & Marketing, Forest Management & Stewardship Supervisors – Glenbranter
£25,641 - £27,056 plus benefits
Do you have a passion for working in the outdoors? Do you want to join a dedicated, diverse team of staff managing forests in Scotland? If so, Forestry and Land Scotland (FLS) are looking for two ambitious and motivated individuals who are looking for a rewarding and challenging career working in a natural environment.
The Central Region of Forest and Land Management Scotland covers a wide geographical area from Tydrum in the north to Whitelee in the south. All FLS forests in the Loch Lomond & the Trossachs National Park are contained within the Regional boundary. This position will be based in the Forestry and Land Scotland office, Glenbranter.
FLS are an executive agency of the Scottish Government and are the largest producer of timber in Scotland. We offer opportunities for a whole career in the forestry industry and offer benefits such as flexible working, sick pay, holiday pay and a pension scheme.
The posts are full time positions (37 hours per week), however applications from people wishing to work an alternative working pattern will be considered.
Applicants claiming a guaranteed interview will be invited for further assessment should they meet the minimum essential criteria listed below.
Job description
This is an opportunity to join a large FLS team working in Central region delivering multi- purpose forest certified to United Kingdom Woodland Assurance (UKWAS) standards.
We are looking for two work site supervisors to join our Delivery Team to supervise a wide range of operational works within the Cowal area. You will be line managed by the Forest Management and Stewardship forester and is based from the Glenbranter office.
The FLS harvesting programme in Cowal is around 150,000 m3 per year predominantly standing sales timber and LTC (Long Term Contract). This is increasing over the next five years and generates around 120 ha of restock programme per year. You will work closely with timber merchants and contractors to deliver essential national timber contracts and income for the organisation as well as works such as chainsaw felling of Phytopthora infected larch and clearance of rhododendron to allow for restocking. The work program covers large scale upland forests in challenging terrain, steep ground and environmental constraints. Cowal has a large number of Statutory Plant Health Notices as a result of Phytophthora ramorum. The sites are highly varied with regular management of utilities, public access and environmental assets.
The role of a work site supervisor is very much field oriented – supervising our own teams of staff and contractors in the field. There is also an element of administration work required in terms of record keeping and planning. Your key focus will be on ensuring our work meets stringent Health, Safety and Environmental and UKWAS standards also on meeting requirements from our many customers.
Responsibilities
Work with the Foresters and team to plan and execute safe and sustainable forest operations across your work are.
Work to look after ongoing forest operations ensuring regular communication with direct teams, contractors and merchants.
Provide a key point of contact for your Forester, teams and contractors to communicate effectively with each other.
Ensure good records are kept of site visits, audits and stock control.
For more information and to apply, please visit our website:
www.civilservicejobs.service.gov.uk
Please quote ref 122632- HM, FM and Stewardship Supervisor.
Closing date: 27 June 2021, 23:55.
No recruitment agencies please.
We are committed to providing equal opportunities for all sectors of our diverse community.
Closing Date: 27/06/2021 Location: Glenbranter