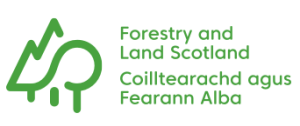 Forestry and Land Scotland
Forest Management & Stewardship Craftperson
Aberfoyle, Glenbranter, West Calder
£20,955 - £22,171, plus benefits
Background Information
The Central Region within Forestry and Land Scotland covers a wide geographical area, from Tydrum in the north to Whitelee in the south. All of Forestry and Land Scotland woodlands in the Loch Lomond & the Trossachs National Park and Central Scotland's urban woodlands are contained within Central Region.
The successful applicant would be expected to manage their own time and workload based on priorities discussed and set out with their reporting manager.
There are four full-time posts available. Two of these posts will be based in Aberfoyle, one will be based in West Calder and other will be based in Glenbranter.
There is also a part-time role available, which can be based at either Aberfoyle, West Calder or Glenbranter. this part-time role is based on two, eight hour days per week, however the days worked can be negotiated.
This post is part of The Land Management function. The Land Management team directly deliver tree safety inspections and associated chainsaw works, tree planting, amenity grass cutting, conservation work, installation and maintenance of recreation infrastructure, chemical and hand weeding, waste management, fencing, motor-manual tree crop maintenance across Central Region.
The key responsibilities for the role will include:
Proactively contribute to the work of the whole team. Develop effective team communication and working practices. Demonstrate flexibility to work in changing teams, maintaining good communication and availability with other squad members and your reporting manager.
Develop self and work colleagues through planned learning.
Organise and deliver a programme of work associated with Forest Management and Stewardship targets.
Record field based survey and site monitoring information, presenting this information to supervisors for analysis.
Take personal responsibility for Health and safety at work, produce and review daily risk assessments, maintain standards and records such as hand arm vibration, pre commencement and toolbox discussions and accident or near miss records.
Delivering at pace, working in an organised manner using your knowledge and expertise to deliver on time and to standard. Take responsibility for the quality of your work and keep your manager informed of how the work is progressing.

For more information and to apply, please visit our website: www.civilservicejobs.service.gov.uk
Please quote ref 36231.
Closing date: 23/02/2020, 23:55
No recruitment agencies please.
We are committed to providing equal opportunities for all sectors of our diverse community.